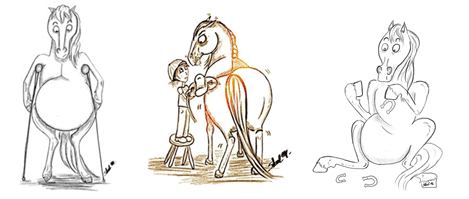 Welcome to Holistic Horseworks Talks!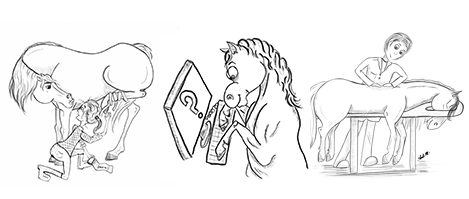 April Love, the founder of Holistic Horseworks, answers questions and talks about real stories from her listeners. We will be striving to bring you new, fresh content to help you solve all the "little issues" you may be having with your horse.  The "good ol' ways" just aren't working anymore on today's horses because they have more stressors added to their lives.
Here is the list of most recent episodes by release date, keep scrolling to browse by category! 
Tap on the topics below to expand more episodes!
About April
In this episode, April shares personal stories about how her passion for horses started and why she developed her program. From her years of work, she has seen how her program helps both the horse and the rider.
Accredited Course Equine Musculoskeletal Unwinding
In this episode, April explains her accredited program, equine musculoskeletal unwinding.  She also talks about how it is a very easy and personalized learning experience even when you're studying at home or getting guidance from a distance reading. But if you prefer, she provides details to host a hands-on clinic. And last, she shares a fun way to spoil your horse.
Course, Membership, Story, Human Health
In this episode, April explains how she designed the home study program for all kinds of learners. She reminds us what to expect of our horses before and after a full session. She shares a real-life story of what happened when a student hard-tied her horse to a pole, and then how this program is helpful for humans too.
Jaclyn Strahan's experience during and after the courses
In this 2-part series, I interview Jaclyn Strahan about her experiences from taking April's Level 1 and 2 courses. This first episode focuses on what she learned despite being a seasoned professional body worker. In the second episode, Jaclyn recounts her personal story of how the courses impacted her in very powerful ways and then how it continues to impact her clients and their horses.

Level 1 Course
The Level one course will provide a solid foundation on how to do bodywork on horses, whether it's your own or your client's. Layla Harris, an IICT Certified instructor for Holistic Horseworks explains what happens at a Level 1 clinic.
Leves 2 and 3
After you have taken a Level 1 clinic, you have the option of taking levels 2 and 3. These clinics will delve a little deeper into the physical aspects of bodywork and specifics relating to the cranial sacral area. Layla Harris is an IICT Certified Instructor for Holistic Horseworks.
Distance Readings
Live help is so challenging to find these days. Some clinicians want you to buy their DVD or package and then — Good luck! I can help you through all the steps and you can send me a picture of your horse for a recheck to make sure you got everything correctly.
Environmental Issues
April talks about how our horse's environment may be affecting their behavior and their assimilation of minerals and ultimately their immune system.
Horses That Trip or Stumble
In this episode of Holistic Horseworks Talks, I talk about horses that stumble. When horses have issues with stumbling, most people would guess that the problem is in the feet, right? You have been told your horses' toes are too long and the farrier needs to cut them back. But 4 weeks later it is happening all over again!
Sluggish or Lazy Horses
Does your horse feel sluggish to you? Many riders may think the horse is just being stubborn, but it's more likely the horse is unable to move freely, rather than choose not to.          
Itchy Horses
Some horse owners are noticing their horses rubbing their tails or their faces, even to the point of rubbing themselves raw. They're very sensitive to flies and other things in their environment. The issue may be an autoimmune disorder or allergies. It can be environmental but it may also be a cranial sacral problem.
Older Horses
Is your older horse showing signs of stiffness, arthritis, or even tripping more? With some weekly preventative care, you can add years to your horse's joy and ease of movement.          
Spring Cleanup
In this episode, we talk about horse care tips for Spring!
Broodmare Relief
By the time your mare nears the end of her pregnancy, she will no doubt be feeling uncomfortable. Do a little bodywork session as soon as they do foal, and it's safe to be around the mare and foal.          
Help for EVH1 and immune boosting your horse
April shares some holistic treatment options she has used on horses in the past.
Wound Care
April shares how the protocols she uses for her horses also helped a student after an accident at a clinic.
Mysterious Lameness
When your horse is lame, you will watch him move to figure out where he hurts. However, what you see, may not always be the result of the actual cause of the issue. I see a lot of horses and the owner will say "he's off on the left hind," and I'll say, "No, it's actually the right front."It's interesting how quickly they can compensate!
What To Do About Colic
Colic is a major concern for any horse owner. Usually, it is a few HOURS before the vet can get to you, so what can you do to help your horse while waiting?
Organic Parasite Control
Many internal parasites are building up resistance to chemical paste wormers, so how can you control parasites naturally Remember, the paste wormers available on the market are poison! There are other ways to keep the horse healthy so they don't pick up parasites in the first place.
Testimonial: Mare Goes from Lame to Sound
April talks with a horse owner who was at her wit's end trying to find out why her horse was on-and-off lame. After spending thousands doing diagnostic work, she was advised to put the mare on multiple medications, use special shoes, etc. The owner considered euthanasia. Instead, the owner found April's Holistic Horse Works program.
Sunburned Horses
In this episode of Holistic Horseworks Talks, I talk about sunburn on light-skinned horses. Many light-colored horses and those with a lot of white on their face are prone to getting a sunburn on their noses and around the eyes. Sunburn is not only painful, it can lead to skin cancer.
Hoof Care
April shares hoof care protocols for post cancer treatment, going from shod to barefoot, and laminitis.
Horse Shoe Bills Got You Down?
With everything going on in the world, prices just keep rising and rising, so it's important to save every penny we can, even when it comes to horse care. Don't let your shoeing bill become another big expense on top of everything else.
Why Do Horse's Hooves Change Shape?
A horse's hooves are not as hard as you might think. When a horse has pain in their body, they will shift their weight to find some relief. After a while, the hooves bearing the extra weight will start to change shape.
Horses That Spook
Why do horses repeatedly spook at the same things? If you go up to your horse's head and lift the chin a little bit, (like you're going to kiss him on the nose) and look at their eyes, you'll see one's pointing off in one direction and one's pointing off way out to the side.
Trailering Horses
Nothing is more frustrating than having a horse refuse to get on the trailer, especially if you need to home! There's a reason behind the horse's unwillingness and it's usually not stubbornness.
Horses That Bite
A listener is dealing with some young horses that are nipping and even head-butting the other horses. And he wants to know why that's happening and what can you do about it.
Brhavioral Problems
An owner had a horse that was acting up and they were going to send it to a trainer. But is it really a training problem? Or is it the horse trying to tell them that they're in pain?
Healthy Fat and Energy Sources
April gives a simple recipe for a vegan fat source for our older horses, horses who may be missing teeth, or horses who just can seem to put on weight. She also shares how she fed Tiki for endurance rides when he had just minutes to fuel up for the next leg of the ride. And we finish up talking about keeping weight healthy, watching for hidden sugars, and insulin resistance.
Splashing Water in Food
If your horse is doing all of this swishing around and soaking their food, they're trying to make it easier to eat and less painful in their mouth. Let's talk about teeth and cranial issues.
Drinking Water
People don't think about that but it really affects the horse and it throws off how they can assimilate nutrition. So the really important thing when we're hydrating ourselves is to have pure water without other things in it.
Horses That Eat Poop
We've noticed is the horses that eat manure, whether it's theirs or another pasture mate, are looking for pre-digested greens because their digestion is off track. They also need minerals and things that they're lacking.
Saddle Fit
Saddle fit is a huge issue for horse owners. A lot of people go and spend a whole lot of money trying to get the perfect fitting saddle. Often, it's not the saddle that needs changing — it's the horse's body!
Owner Find Help for Herself and Horses
Donna initially did some online searching to find out how to help her horses. She found April's Holistic Horse Works program and then signed up for a clinic. Then COVID hit and the clinic was canceled. So Donna did the home study course. When Donna herself, got sick she found that April also had things to help humans too. Donna eventually purchase a Healy Resonance device and found it helped, not only her but her animals, as well.
Meet Layla Harris
Layla Harris is an IICT Certified Instructor for Holistic Horseworks. In this episode, she shares how she found April Love's Holistic Horseworks program and it has helped her clients' horses.
Meet Marissa Levitt
Marisa Levitt, based in Australia is an IICT certified instructor for Holistic Horseworks. While researching how to help her Arabian mare when one hoof grew larger than the other, Marisa found April Love's Youtube site. She later attended a clinic and the rest is history. Listen to Marisa explain how the Holistic Horseworks program changed her life for the better.