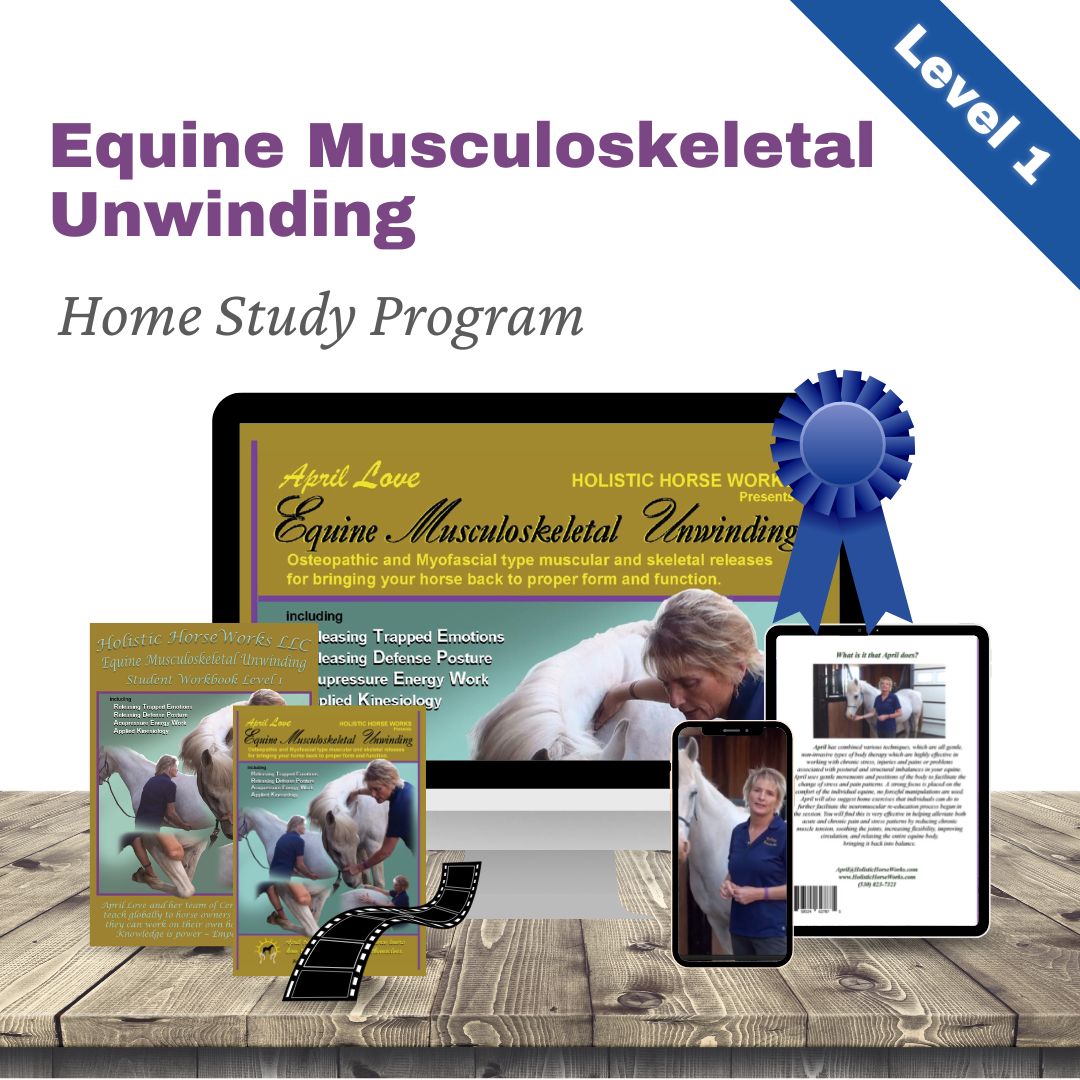 Level 1 "Equine Musculoskeletal Unwinding" Home Study [NO DVD]
Includes
Lifetime access to digital course content
Watch instantly streaming course video
Downloadable PDF course workbook
FREE 30 minute consultation
FREE distance reading
Option to earn a certificate of completion (included)
Option to continue to professional certification (additional fee applies)
Holistic Horseworks equine bodywork training programs will deepen the bond between horse and rider by opening up joy and ease of movement for both. Gain a broader perspective and understanding of horse health, skeletal alignment, and musculature as well as rider-horse connectivity.
The result is fewer necessary veterinary treatments as well as reducing other high-cost expenditures like saddle fitting. Preventing horse health and wellness issues is much cheaper than treating them! Learning our whole program will help keep your horse healthy, sound, and rideable through their '30s, for less than the cost of a good saddle or an expensive trip to the vet.
Level 1 Equine Musculoskeletal Unwinding is all soft work, from ears to tail, which is very effective in correcting a wide variety of maladies from gait abnormalities to mysterious lameness and more. These soft, gentle moves manually release the skeletal system to keep it in proper form and function, which allows the horse's body to load and operate correctly.
We'll also work on deep muscle unwinding that will have the horse presenting taller, longer, and stronger after just a 1-hour session. Other topics include balancing the horse's energetic center, chakras, and acupressure meridians, which can be truly transformative for these sensitive and gentle creatures.
Most other horse care training courses only work on the symptoms of the problem and do not address the root imbalances, which will always cause the issues to come back. Learn how you can help your horse effectively, and holistically. Get started today with the Level 1 Equine Musculoskeletal Unwinding Home Study program!
Your purchase includes instant access to a streaming or downloadable video that you can watch instantly, as well as an accompanying downloadable workbook.
After completing the program, students can choose to complete a series of case studies and receive a certificate of completion, or go even further to become a certified Equine Musculoskeletal Unwinding practitioner.