Learn How to Keep Your Horse Happy, Healthy, and Rideable Thru Their 30's
Learn from home with live 1:1 support!


Mysterious lameness no one can figure out?



High vet bills?



Saddle fit costing you THOUSANDS OF DOLLARS?



Metabolic issues?



Training and behavior issues?



Hoof health, shape, sidebone, ringbone, or high-low syndrome?



Other recurring horse health issues?
Learn how to find and work on these issues in our easy, step-by-step program!
Equine Musculoskeletal Unwinding Home Study Course
A Whole New Way of Looking at Horses
The reason why your horse is having these seemingly unsolvable issues is that most people you go to for advice— including vets, trainers, and many equine professionals— are only treating the symptoms, NOT the root of the issues. And that's the way it's been for years and years. But if "the good ole' ways" just aren't working anymore, now is the time to start looking at things in a whole new way.
Most horses that have been labeled as "problem horses" are really just in some kind of pain. A lot of horses sustain injuries from as young as 6 months of age that they carry with them through their entire lives. When left untreated, these issues can lead to all kinds of health complications, shortening your horse's unrideable years. Even more serious issues may even shorten their life span. 
Learn how you can look at your horse from a better perspective, HOLISTICALLY! As well as what you can do to help your horse yourself right in your own barn that will turn them into the willing and agile equine partner of your dreams.
E

How to evaluate your horse and identify problem areas

E

Equine bodywork techniques to support previous injuries

E

Stretches to keep your horse limber and avoid future injury

E

Techniques for deep skeletal and muscular release

E

How to actually "listen" to your horse

E

How to balance and align their energetic centers

E

Exercises to release trapped emotions

E

Natural remedies for common horse health issues

E

Valuable protocols to support your horse care regimin
Equine Musculoskeletal Unwinding is all "soft work" but it is very, very effective in correcting gait abnormalities, saddle fitting issues, and mysterious lameness. (What I mean by "soft work" is that you don't need a lot of strength for these techniques, anyone can do this!) These soft, gentle moves manually release "stuck" areas to keep the skeleton in proper form and function  so that the horse can load the body, joints, and hooves correctly.
We'll also cover deep muscle unwinding that will have the horse presenting a 2″ taller, 4″ longer and they look as if they have gained 20 pounds after only a 1-hour session.
As you know, horses are also sensitive and highly energetic, so this course goes over balancing chakras and aligning acupressure meridians, along with techniques in "listening" so that you can finally hear what it is your horse has been trying to tell you! (They don't always communicate verbally.)
The key is to address the horse holistically, on all levels, not just the physical. Most equine professionals and other horse bodywork modalities do not address the whole horse, so you always end up working on the symptom and not the root cause which is why issues tend to come back time and time again.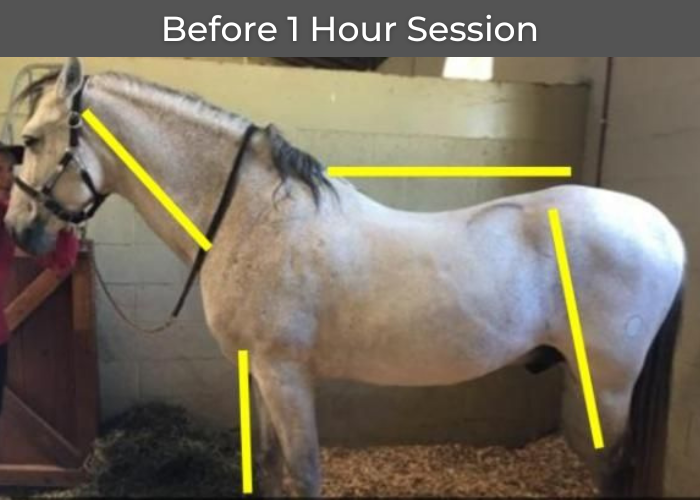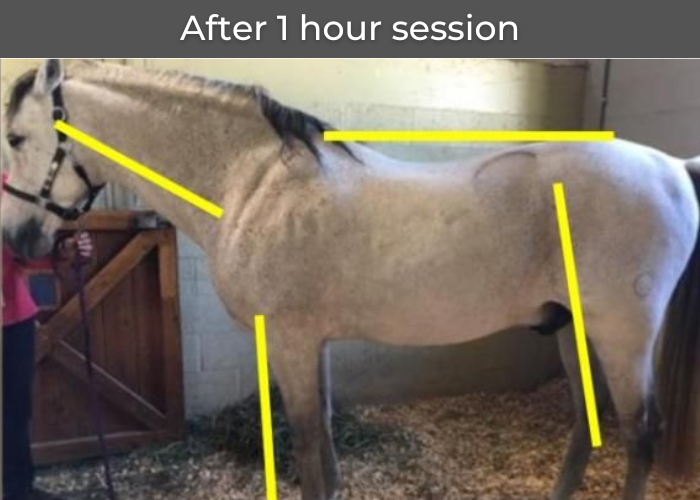 E

Lifetime access to course content

E

Watch instantly course video

E

Downloadable course workbook

E

Certificate upon course completion and testing

E

Option to progress onto practitioner certification

E

Techniques to start helping your horse right away

E

BONUS: Free distance reading!! (Valued at $75)
… plus a happier, healthier horse!
As soon as you make your purchase, you will have access to all of the course content so that you can start learning immediately! This includes videos that you can watch instantly and access at any time for the life of the program, as well as a downloadable, 120-page workbook to help you integrate and practice all of your newly gained knowledge.
After completing the course content, there is a test you can take to earn a certificate of completion! (But only if you want to.) This test consists of submitting 5 case studies using the Equine Musculoskeletal Unwinding method to evaluate and care for a horse. Your case studies will be turned in one-by-one, one and reviewed directly by Holistic Horseworks founder April Love. Upon successful demonstration of the EMU method, you will be awarded a certificate of completion!
Beyond that, you can also choose to advance on to becoming an officially certified Holistic Horseworks practitioner, or even a Holistic Horseworks instructor! (Additional costs not included in this program. Click here for more details. ) Start a new career in horse care, or expand your skillset in your current profession.
As a BONUS, you will also receive a free distance reading valued at $75! In a distance reading, you take pictures of the right and left sides of your horse, which April will then review and return with a full report on your horse's health and alignment issues. This will be especially helpful as you study so you know what to work on.
Beyond what you tangibly receive by enrolling in this course, you will also receive a happier and healthier horse, as well as a more willing equine partner that is excited to ride and compete with you every day!
Equine Musculoskeletal Unwinding Home Study Course
 And I have a long career with horses. I started as an endurance rider years ago with my horse Tiki— he was such an amazing equine partner. I had my heart set on him from the beginning, but he wasn't in the best shape, and no one thought he would make it as an endurance racehorse, but boy, were they wrong!
In 2007, we placed third in the American Endurance Ride Conference (AERC) West Region Heavyweight Division with 955 miles in one year, including an impressive streak of 28 consecutive completions in just 16 months of 50 miles or more in a day. We continued to win many more events and enjoy years of riding together. 
I did everything I could to help Tiki perform and feel his best, including spending tens of thousands of dollars on horse care and equine training classes. But in all of those classes I took, I always noticed that something was missing… No one looked at the whole horse.
So I took everything I learned, plus everything I saw "missing," and developed my own special method. Today, I have helped not only Tiki, but hundreds of horses and horse owners all over the world! I am also very proud to have a team of certified Holistic Horseworks practitioners and instructors practicing globally.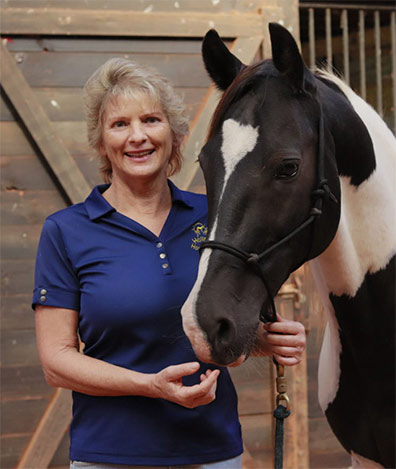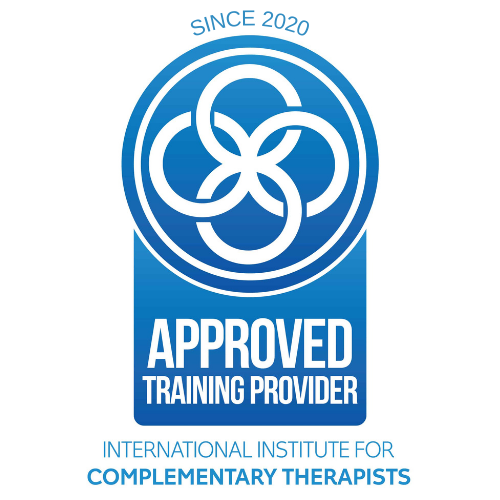 April Love of Holistic Horseworks as well as the Equine Musculoskeletal Unwinding method are accredited by IICT, the International Institute for Complementary therapies. 
This adds a whole new level of credibility to this offering which many others don't have! For someone to be able to officially certify you they have to be the originator of the methodology. Here at Holistic Horseworks, we have gone through the rigorous procedure to put all of our videos and workbooks up to rigorous scrutiny in order to receive IICT approval.
Students who take
complete
this program will have the additional opportunity to become recognized and certified in EMU with IICT approval of their own. (Not included with program purchase.
Click here for more details.
)
"I enrolled in April's Level 1 'Equine Musculoskeletal Unwinding' Home Study this fall and have never been happier with the quality of education. The amount of information and guidance that is included in the handbook and the video is incredible. I feel like I have finally stumbled upon the wisdom and empowerment I have always been looking for as a horse owner and equestrian. I am even more grateful that April has put together this education so that it be accessed at home."
"I currently work as an equine vet tech. I took April's level one class, unwinding the horse for a couple of reasons. One I had a horse that was physically sore all over and we could not diagnose the exact problem. He hurt in the ribs. His hocks were sore, he was very tight in the hamstrings and when I rode him he would not collect and pushed on the bit. Two I kept seeing the same horses coming into the clinic with physical problems but with no true diagnosis. I look at horses differently now and am able to evaluate them differently than I had before thanks to April. I am looking forward to finishing my next 2 levels."
"I'm very impressed with the workbook, it is organized, detailed, thoughtful, and full of information you wouldnt find anywhere else… and of course easy to understand. The best part is April's response to your questions is very very quick, usually within an hour and definitively the same day. This woman really cares about her students… I feel she's healing me as well as my horses."
DISCLAIMER: This is not intended to be a substitute for professional veterinarian advice, diagnosis, or treatment. Always seek the advice of your veterinarian with any questions you may have regarding the medical condition of your pet, and always consult them in the case of an emergency.