Watch Instantly Special -my two top selling videos + Free "Distance Communication" Report No DVD
$150.00
Like the idea of watching some of my videos instantly? Now you can buy both Horses Are Talking [English only] and Equine CranioSacral Energy Work [English & French] for the discounted price of $100 and get a Distance Communication report for free!
Equine CranioSacral Energy Work
If your horse has ever banged its head, fallen, or pulled back when tied at some time in their life it could cause the Cranial bones to shift (Google Equine Cranial Sacral). When a horse "pulls back" while tied to a solid fixture, the halter applies a thousands of pounds of pressure to the top of the head while the horse is struggling to free itself. Years later the horse might come up with mysterious issues that can be found on the Equine Cranial pages. Head tossing, spooking, allergies, auto immune and more are signals of this impact. You may want to Google what Cranial Sacral does for humans as well. This video (formerly "Horses With Headaches") helps you learn energy hand holds for Cranial Sacral releases that has proven to help my two horses, as well as hundreds of others all over this planet.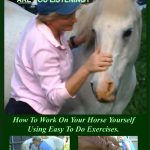 Horses are Talking
The majority of training and behavioral issues are caused by pain issues in the horses body that are easily corrected. This results in a horse that is unwilling to switch leads, girthy or is a cold backed horse, unable to engage its hind end. These issues lead to high/low syndrome in hooves, roach back and hunter bump calcifications as well as arthritic hocks and side-bone. You can fix this! April shows you how to work on your horse yourself using easy Osteopathic, Myofascial muscular/skeletal releases and Acupressure releases.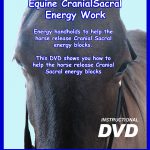 * Distance communication, April listens to what the horse has to say and then puts it in a 6 page pdf file for you to print off, 50.00 (dollars) Purchase this Whole Package Together! Once you make this purchase please email to April 2 photographs of your horse standing on a flat hard surface with head up and neck straight in a relaxed stance. One picture of the left side of horse one picture of the right side of horse along. Include the horse's name, age, and  goals for the horse. In addition include any specific surgeries or injuries that the horse has undergone.  (Please see April's Testimonials.)